Your Profile
HEB
Comment I Made 4 hours ago
---
Comment I Made 1 day ago
---
Comment I Made 1 day ago
So what role will Hurt play?
My 2p
Hurt will play someone who is not ''The Doctor'' but is the ninth body of the Time Lord who mostly calls himself ''The Doctor''. He chose to renounce the name of healer when he commits multiple genocides to save the universe in The Time War.
Remember this dialogue from The Beast Below?
''Three options. One, I let the Star Whale continue in unendurable agony for hundreds more years. Two, I kill everyone on this ship. Three, I murder a beautiful, innocent creature as painlessly as I can. And then I find a new name 'cause I won't be The Doctor anymore...''
So when he reincarnates into the ninth, someone we first heard of via Clive in 'Rose' appearing through history helping those on the brink of disaster, trying to make amends for what he has done, he becomes ''The Doctor'' again.
Thus the current numbering remains the same - Matt Smith is still the 11th
Then again, alternatively
Look at Hurt's costume from November

That is McGann's waistcoat and Ecclestone's jacket
So maybe he's 8.5 - a half regeneration - like Tennant in ''The Stolen Earth''?
But this news does suddenly cast a very different light on the stories of a big Hollywood movie
The Moff
"Look, we hopefully will do a Doctor Who film someday. It will be absolutely run by the Doctor Who production office in Cardiff. It will feature the same Doctor as on television. It will not be a rebooted continuity. All of that would be insane."
But now you could have a known (to the US) actor in the role, one that has appeared in the BBC series. And what story is more deserving of a big Hollywood budget than The Time War? Daleks are naturally included, as is Davros and all the species from the Whoniverse you could wish to add.
...and to make it even more marketable, in a big ball of wibbly-wobbly, timey-wimey stuff, rapidly rising star Carey Mulligan could reprise her role of Sally Sparrow - this time as his companion
---
Comment I Made 1 day ago
New LP and tour
David Bridie and the Pills
- John Phillips (guitar)
- David Folley (Drums)
- Eden Mulholland (Guitar and vox) are playing two free warm up gigs at Tago Mago
744 High Street Thornbury Melbourne, 3071 (03) 9484 1470 on Thursdays June 6 and 13 starting at 8.45pm.
These small gigs will be final rehearsals for the Wake tour starting in Adelaide at the Governor Hindmarsh on June 14th and then heading off round the country.
Wake Tour Australian dates:
Friday 14 June: Governor Hindmarsh / Adelaide SA
Saturday 15 June: Barossa Regional Art Gallery / Barossa Valley SA
Saturday 22 June: The Street Theatre / Canberra ACT
Thursday 11 July: Mullum Civic Memorial Hall / Mullumbimby NSW
Saturday 13 July: Powerhouse / Brisbane QLD
Thursday 18 July: The Loft / Warrnambool VIC
Friday 19 July: The Ararat Hotel Red Room / Ararat VIC
Saturday 20 July: Northcote Social Club / Melbourne VIC
Thursday 25 July: The Clarendon / Blue Mountains NSW
Friday 26 July: The Basement / Sydney NSW
Saturday 27 July: Lizottes Central Coast / Kincumber NSW
Sunday 28 July: Lizottes Newcastle / Newcastle NSW
Friday 2 August: The Memo / Healesville VIC
Saturday 3 August: Caravan Music Club / Oakleigh VIC
Sunday 4 August: Montrose Town Centre / Montrose VIC
Saturday 17 August: Republic Bar / Hobart TAS
Sunday 18 August: Brookfield Margate / Margate TAS
---
Comment I Made 1 day ago
---
Comment I Made 2 days ago
Thankfully The Name Of The Doctor was a vast improvement over the last 7 episodes
---
Comment I Made 3 days ago
Rebranded as

---
Comment I Made 3 days ago
Maybe not lollies, but not so proudly Australian
..and on sale into the '90s with this branding
---
Comment I Made 3 days ago
CD 4
1. The House Of Love, "Shine On" (Creation, 1987)
2. The Shamen, "Something About You" (Moksha, 1987)
3. The Bachelor Pad, "The Albums Of Jack" (Warholasound, 1987)
4. Gol Gappas, "Albert Parker" (el, 1986)
5. Hangman's Beautiful Daughters, "Love Is Blue" (Dreamworld, 1987)
6. Whirl, "Heaven Forbid" (Playroom Discs, 1987)
7. The Brilliant Corners, "Delilah Sands," (SS20, 1987)
8. The Flatmates, "Shimmer" (Subway Organisation, 1988)
9. The Wake, "Gruesome Castle" (Factory, 1988)
10. This Poison!, "Engine Failure" (Reception, 1987)
11. The Darling Buds, "If I Said" (Darling Buds, 1987)
12. The Boy Hairdressers, "Tidalwave" (53rd & 3rd, 1987)
13. The Waltones, "She Looks Right Through Me" (Medium Cool, 1987)
14. The Rosehips, "Room In Your Heart" (Subway Organisation, 1987)
15. Apple Boutique, "Love Resistance" (Creation, 1987)
16. Laugh, "Take Your Time Yeah!" (Remorse, 1987)
17. The Raw Herbs, "She's A Nurse But She's Alright" (Medium Cool, 1987)
18. The Heart Throbs, "Toy" (In Tape, 1987)
19. The Clouds, "Tranquill" (Subway Organisation, 1987)
20. The Groovy Little Numbers, "You Make My Head Explode" (53rd & 3rd, 1987)
21. The Siddeleys, "My Favourite Wet Wednesday Afternoon" (Medium Cool, 1987)
22. Rumblefish, "Tug-Boat Line" (Pink, 1987)
23. The Hepburns, "The World Is" (Cherry Red, 1987)
24. Bubblegum Splash, "One Of Those Things" (Subway Organisation, 1987)
25. The Corn Dollies, "Be Small Again" (Medium Cool, 1987)
26. The King of Luxembourg, "Lee Remick" (el, 1987)
27. The La's, "Son Of A Gun" (Demo) (Unreleased, 1987)
CD 5
1. The Stone Roses, "The Hardest Thing In The World" (Silvertone, 1988)
2. The Inspiral Carpets, "Keep The Circle Around" (Playtime, 1988)
3. The Pooh Sticks, "Indiepop Ain't Noise Pollution" (Fierce, 1988)
4. The Sea Urchins, "Solace" (Sarah, 1988)
5. Cud, "Only (A Prawn In Whitby) " (Imaginary, 1989)
6. The Popguns, "Landslide" (Medium Cool, 1989)
7. One Thousand Violins, "All Aboard The Love-Mobile" (Immaculate, 1988)
8. Another Sunny Day, "I'm In Love With A Girl Who Doesn't Know I Exist" (Sarah, 1988)
9. East Village, "Strawberry Window" (Sub Aqua, 1988)
10. Bad Dream Fancy Dress, "Choirboys Gas (Hack The Cassock" (el, 1988)
11. Rodney Allen, "Circle Line" (Subway Organisation, 1988)
12. The Orchids, "I've Got A Habit" (Sarah, 1988)
13. Bradford, "Skin Storm" (Village, 1988)
14. The Charlottes, "Are You Happy Now" (Subway, 1989)
15. The Claim, "Picking Up The Bitter Little Pieces" (Esurient Communications, 1989)
16. The Poppyheads, "Dreamabout" (Sarah, 1988)
17. The Sun and the Moon, "Adam's Song (Pour Fenella) " (Midnight Music, 1988)
18. The McTells, "Jesse Man Rae" (Frank, 1988)
19. The Would-Be Goods, "Cecil Beaton's Scrapbook" (el, 1988)
20. The Desert Wolves, "Speak to Me, Rochelle" (Ugly Man, 1988)
21. The Rain, "Dry The Rain" (Medium Cool, 1988)
22. Blow Up, "Forever Holiday" (Cherry Red, 1989)
23. The Fanatics, "Suburban Love Songs" (Chapter 22, 1989)
24. The Miltown Brothers, "Roses" (Big Round, 1989)
25. The Seers, "Sun Is In The Sky" (Hedd, 1989)
26. The Telescopes, "Perfect Needle" (What Goes On, 1989)
27. The Boo Radleys, "Catweazle" (Action, 1989)
---
Then, the next day...

---
Comment I Made 3 days ago
SCARED TO GET HAPPY
A Story Of Indie-Pop 1980-1989
A one-off live extravaganza is happening in London next month tied into the release of a new 5 CD compilation box set via Cherry Red*
Tracklist: Scared To Get Happy: A Story of Indie-Pop 1980-1989
CD 1 1. The Wild Swans, "Revolutionary Spirit" (Zoo, 1982)
2. Girls At Our Best!, "Getting Nowhere Fast" (Record, 1980)
3. Art Objects, "Showing Off To Impress the Girls" (Heartbeat, 1980)
4. The Pale Fountains, "(There's Always) Something On My Mind" (Les Disques du Crépuscule, 1982)
5. Josef K, "The Missionary" (Les Disques du Crépuscule, 1982)
6. The Monochrome Set, "Jet Set Junta" (Cherry Red, 1982)
7. The Blue Orchids, "Dumb Magician" (Rough Trade, 1982)
8. The Marine Girls, "Don't Come Back" (Cherry Red, 1983)
9. Fire Engines, "Candyskin" (Pop:Aural, 1981)
10. TV21, "Ambition" (Powbeat, 1980)
11. Dolly Mixture, "Everything and More" (Respond, 1982)
12. The Nightingales, "Paraffin Brain" (Cherry Red, 1982)
13. Scars, "All About You" (Pre, 1981)
14. Jane, "It's A Fine Day" (Cherry Red, 1983)
15. The Farmer's Boys, "I Think I Need Help" (Waap, 1982)
16. The Room, "Things Have Learnt To Walk That Ought To Crawl" (Red Flame, 1982)
17. Weekend, "Summerdays" (Rough Trade, 1982)
18. Prefab Sprout, "Lions In My Own Garden (Exit Someone) " (Candle, 1982; reissued Kitchenware, 1984)
19. The Lines, "Nerve Pylon" (Red, 1980)
20. Everything But The Girl, "Feeling Dizzy" (Cherry Red, 1982)
21. The Higsons, "The Lost And The Lonely" (Waap, 1981)
22. Black, "Human Features" (Rox, 1981)
23. The Daintees, "Roll On Summertime" (Kitchenware, 1983)
24. The Bluebells, "Happy Birthday" (Lyntone, 1982)
25. Trixie's Big Red Motorbike, "Norman And Narcissus" (Lobby Ludd, 1983)
26. TV Personalities, "A Picture of Lorian Gray" (Live) (Creation Artifact, 1982)
CD 2 1. Hurrah!, "The Sun Shines Here" (Kitchenware, 1982)
2. Fantastic Something, "If She Doesn't Smile (It'll Rain) " (Cherry Red, 1983)
3. Pulp, "Everybody's Problem" (Red Rhino, 1983)
4. Strawberry Switchblade, "Dark 7″ (Unreleased)
5. The Suede Crocodiles, "Stop The Rain" (No Strings, 1983)
6. Grab Grab The Haddock, "I'm Used Now" (Cherry Red, 1984)
7. Del Amitri, "Sense Sickness" (No Strings, 1983)
8. Friends Again, "Honey At The Core" (Moonboot, 1983)
9. Aztec Camera, "Oblivious" (Rough Trade, 1983)
10. Lloyd Cole & The Commotions, "Are You Ready To Be Heartbroken" (Indie Version) (LC, 1983)
11. The Cherry Boys, "Kardomah Cafe" (Crash, 1983)
12. In Embrace, "This Brilliant Evening" (Cherry Red, 1985)
13. Microdisney, "Dolly" Food (Rough Trade, 1984)
14. The Woodentops, "Plenty" (Food, 1984)
15. The Jazz Butcher, "Southern Mark Smith" (Glass, 1983)
16. The Jasmine Minks, "Where The Traffic Goes" (Creation, 1984)
17. The Hit Parade, "Forever" (JSH, 1984)
18. The June Brides, "Every Conversation" (Pink, 1984)
19. The Revolving Paint Dream, "In The Afternoon" (Creation, 1984)
20. James, "Hymn From A Village" (Factory, 1985)
21. The Jesus and Mary Chain, "Just Like Honey" (Demo Oct '84) (Blanco Y Negro, 1985)
22. Biff Bang Pow!, "The Chocolate Elephant Man" (Creation, 1985)
23. Yeah Yeah Noh, "Temple Of Convenience" (In Tape, 1985)
24. The Bodines, "God Bless" (Creation, 1985)
25. Big Flame, "Debra" (Ron Johnson, 1985)
26. The Loft, "Up The Hill And Down The Slope" (Creation, 1985)
CD 3 1. Primal Scream, "Velocity Girl" (Creation, 1985)
2. The Wedding Present, "Go Out and Get 'Em, Boy!" (Reception/City Slang, 1985)
3. The Primitives, "Thru The Flowers" (Lazy, 1986)
4. The BMX Bandits, "Sad" (53rd & 3rd, 1986)
5. The Shop Assistants, "Day Long" (Subway Organisation, 1985)
6. The Mighty Lemon Drops, "Something Happens" (Dreamworld, 1985)
7. We've Got a Fuzz Box and We're Gonna Use It, "XX Sex" (Demo) (Vindaloo, unreleased, 1986)
8. Mighty Mighty, "Is There Anyone Out There?" (Girlie, 1986)
9. The Soup Dragons, "Quite Content" (Subway Organisation, unreleased, 1986)
10. McCarthy, "Red Sleeping Beauty" (Pink, 1986)
11. Age of Chance, "Motorcity" (Riot Bible, 1985)
12. The Chesterfields, "Completely And Utterly" (Subway Organisation, 1986)
13. The Wolfhounds, "Cut The Cake" (Pink, 1986)
14. The Servants, "Loggerheads" (Head, not originally released, 1986)
15. The Close Lobsters, "Don't Worry" (Demo) (Unreleased, 1986)
16. Pop Will Eat Itself, "Sick Little Girl" (Desperate, 1986)
17. Razorcuts, "Big Pink Cake" (Subway Organisation, 1986)
18. That Petrol Emotion, "It's A Good Thing" (Demon, 1986)
19. The Weather Prophets, "Almost Prayed" (Creation, 1986)
20. Jamie Wednesday, "Vote For Love" (Pink, 1986)
21. Talulah Gosh, "Beatnik Boy" (53rd & 3rd, 1986)
22. The Dentists, "She Dazzled Me With Basil" (Tambourine, 1986)
23. The Railway Children, "A Gentle Sound" (Factory, 1986)
24. The Groove Farm, "Baby Blue Marine" (Alternative Version) (Raving Pop Blast, unreleased, 1987)
25. Jesse Garon & The Desperadoes, "The Rain Fell Down" (Narodnik, 1986)
26. Rosemary's Children, "(Whatever Happened To) Alice?" (el, 1986)
27. 14 Iced Bears, "Balloon Song" (Frank, 1987)
28. The Wonder Stuff, "A Wonderful Day" (Far Out, 1986)
---
Statistics
Logged In 4 hours ago.
HEB has been a member since . Starting 450 Topics, replying times and has 113 Friends on Mess+Noise.

All About Me
Formerly of this Parish
He's just this guy, you know
Their twilight campaign is easy to explain...
Stalker's Guide: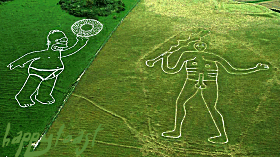 Any similarity to a person is purely coincidental!