Your Profile
definitely
Comment I Made 1 day ago
LovingTheAlien - Cody died years ago. From memory she was shot.
Oort - I LOL'd when Kyle looked at the eclipse. Never been the sharpest tool that one.
---
Comment I Made 1 day ago
LovingTheAlien - yeah, Brad Willis has returned. Different actor though.
---
Comment I Made 1 day ago
---
Comment I Made 1 day ago
Stupid sites and their 'no hotlinking'.
---
Comment I Made 1 day ago
He dated his neighbour, Lucy Robinson (Melissa Bell), and then fell in love with Beth Brennan (Natalie Imbruglia). The couple became engaged, but Beth learned Brad was having an affair with Lauren Carpenter (Sarah Vandenbergh) on their wedding day. After dating different people for a while, Brad and Beth got back together and married.
His new wife is played by Rebekah Elmaloglou! I've always loved saying her surname.
---
Comment I Made 1 day ago
I think Steph is going to steal Lucas and Vanessa's baby. Maybe. I've remained spoiler free in that regard.
Looking forward to the return of Brenno! Also looking forward to the return of Brad Willis, although I'm sad it won't be Scott Michaelson.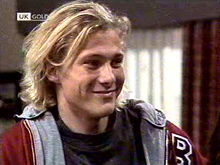 And here's the old Lauren too whilst I'm reminiscing.
---
Comment I Made 1 day ago
Sheila: Hi Lou Lou: Hi Sheila: How's the family? Lou: Holding up, all thing's considered. Sheila: Have you noticed young Amber spending a lot of time at our house? With Chris? Lou: Yeah, they seem to be good mates. Sheila: Oh very good mates. Some might say almost like a couple. Lou: Heh, except for one very important thing, they're uh, hardly uh, on [looks around] the same team, are they? Sheila: Yes, but how much experience does Amber have with Chris' team exactly? I mean there can't be too many out and proud in Mt Isa, can there? Although you never know with those mining towns. Lou: I wouldn't have a clue Sheila, why do you ask? Sheila: Well, do you think it's possible that she might want Chris to join her team? Lou: And why would she want that? He is happy with his team. Sheila: Because some people will bat for both teams, y'know, kick with both feet. Do you think she wants Chris to visit her team? Lou: Sheila, what the heck are you getting at?!? Sheila: Well I think she's falling for him. Lou: And why would she do that? Sheila: Well, she's a teenage girl and he's a sweet good looking boy. I mean she wouldn't be the first one to fall into that trap. She's quite vulnerable. Lou: Well, now that you mention it, she does talk about him a lot. Sheila: Well, I think it's time you had a word with her. Lou: Why me? Sheila: Well you're her Grandfather. And you're harder to ignore. And God knows I'm sure you've made just as many stupid mistakes in the name of love. Lou: I don't like meddling. Maybe it'll all blow over. Sheila: Or maybe she'll end up heart broken.
---
Comment I Made 1 day ago
Great spa scene at the beginning of the week where everyone's lines were clearly overdubbed. Felt like I was watching a foreign film with terrible overdubbing.
---
Comment I Made 1 day ago
Got stoned and caught up on the last week or so of Neighbours. Drama at its best. So much going on! They're all acting their hearts out. I love this show.
---
Comment I Made 5 days ago
Yep, awesome cover art. Standing in the Spotlight is one of my favourite LPs.
Here, Zombie Hominoidea, take my money!
---
Statistics
Logged In 1 day ago.
definitely has been a member since . Starting 44 Topics, replying times and has 27 Friends on Mess+Noise. Born about 32 years ago.

All About Me
definately is not a word.